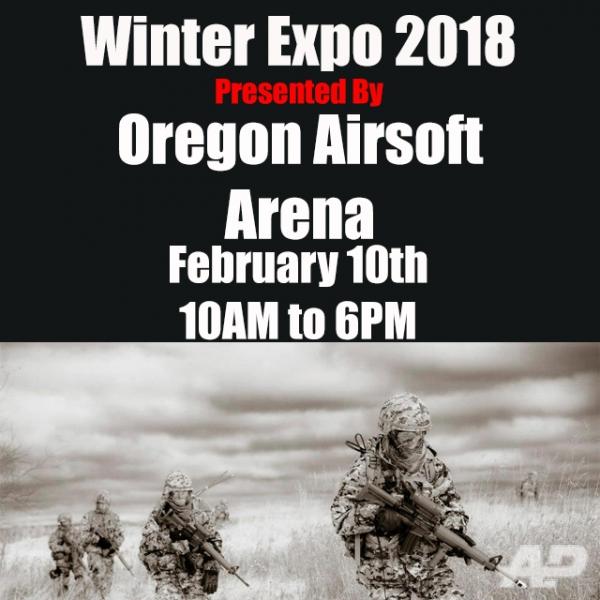 February 10th 10am to 6pm
It's back again for 2018 and even BIGGER! Winter Expo 2018 is a chance to buy, sell or trade used equipment... as well as buy new equipment from vendors. G&G, KWA, ASG, Elite force, Polar Star, Classic Army USA, Echo 1, Jag precision and MORE will be there. The arena and shooting ranges will also be open for play and prizes will be raffled off.
This is the seventh annual winter expo and by far the largest airsoft event in the north-west. In the last few years we have averaged between 500 and 650 people attend and this year looks better. I have included a list of some of the people you might know that attended in the last couple of years.
We had lots of buyers last year at this well-attended swap meet, if you are thinking about clearing out some gear, this will be the place to do it!
Distributors and Reps
ASG
Benchmade Knives
Classic Army USA
Elite Force
G&G Armament
Tippman
KWA USA
Monster energy drink
Polar Star
Red Bull
Spartan Imports
Local Stores
Airsoft Outlet NW
Thunder Kiss NW
Tac-ops Airsoft
Peak Airsoft
Oregon Airsoft
Event organizers
MilSim West
Airsoft Pacific
Oregon Airsoft Arena
Camp R&R
Action Acres
Splat Action & NWPPA
K&M Airsoft Rentals
The Swamp
Teams
SYG
KYS
Phantom Fury
Cloud Airsoft
Streamline
EVO
FOAD
After Dark Airsoft (A Division of Airsplat Army Portland )
SOTA
RR KBAB
OCAT
Infidel
Super Stars
James Liao
Jet Desert Fox
Leah
Typhon Tactical
Airsoftology
The House Gamer
CQB Russian
AO Tom
PNW_Punk
If you are interested in booking a table, or you just want to know more...
Contact Oregon Airsoft Arena
503-985-8326