Replica Supplied By:
[url="http://www.airsoftoutletnw.com"]Airsoft Outlet NW[/url]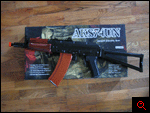 The VFC AKU is a quality replica. Straight out of the box it is as nice as anyone could hope for such an esteemed piece. It is shiny black and has a surprisingly durable finish. The two-piece wooden forend is coated in a clear-red gloss that reminds me of the Chi-Com guns from the 1990s that were soaked in cosmoline.
Airsoft Outlet NW provided this replica, and asked me to make it resemble a battlefield veteran. I planned to strip the finish on the wood, bang it up a little, stain it, and rub in an oil finish. On the metalpieces, I simulated wear and weathering using enamel paints. My intent was for this replica to look like it was lovingly carried and used until the day it was dropped in battle and recovered by a lucky operator.
I began by applying two coats of masking tape to the metal trim on the fore and aft of the foregrip. This allowed me to sand away and not worry about damaging the finish of the metal pieces. I used some 150 grit sandpaper and finished with 240. I took off about 85% of the factory finish leaving a tiny ragged border adjacent to the metal ends. This simulates the "baked-in-grease" effect found on well-used examples of the real steel counterparts.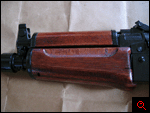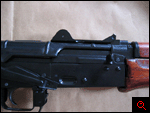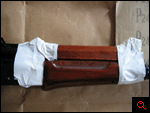 Following that, I went to work with my trusty church key. Not only does it open tactical barley-pops, it is a handy tool to gouge your wood-bits to make it look like it has held down a barbed-wire fence once or twice, and ridden around in a BMP for awhile. To prepare it for the stain, I used some regular isopropyl rubbing alcohol to make sure that all debris and oils were free from the surface.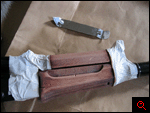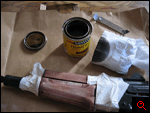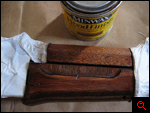 I like Minwax. I've been using the "Special Walnut" color, it provides consistently good results. It lays down a rich deep color and soaks into the fresh marks in the wood, making it look old and weathered. I rubbed in two coats, letting them dry for six hours in between applications. After the second coat had dried (overnight) I took an old white t-shirt and rubbed the forend until all of the stain residue had been removed, leaving a beautiful satin finish. I used some tung oil and rubbed in two coats and let it dry overnight, I used the t-shirt to rub the super-tacky tung oil until it formed a beautiful deep hand-rubbed finish. This finish is durable and beautiful, and it will grow more attractive with use as the patina darkens with age.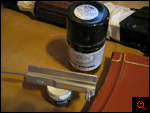 In between coats of stain, I painted the fake bolt chrome silver. I removed it and cleaned it with alcohol. I used a bamboo skewer to make a handle. The hole in the bolt for the spring return happened to hold the skewer nicely. I sprayed on four very light coats of "Testors Model Master Chrome" and let it dry for at least an hour in between applications. By using the skewer I was able to complete it without ever laying a finger on it and thus eliminated any risk of fingerprints or oils left underneath the paint.
For the magazine I lightly hit the high points with some 600 grit sandpaper. To show it some love, I used watered down white glue and a pinch of real GW1 bring-back sand (thanks Dave wherever you are). This is the moon-dust variety and it laid down in the crevices well and really adds some realism to the overall piece.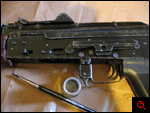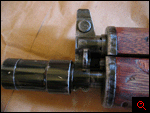 Moving onto the metal, I wanted to replicate light wear on all of the raised surfaces. To do so I used a dry-brushing technique. I prefer Model Master enamels as it is some of the best available and wears extremely well. My palette consists of "Chrome," "Steel," and "Aluminum." Mostly I brush an area with one of the colors, and then add a highlight or two with one of the other colors. To dry-brush correctly (it takes practice, trust me) you must load your brush with paint, and then remove 98% of it. Lightly brush the desired areas with the brush. The raised areas will pick up the paint. This is a task which requires patience and concentration. A little goes a long way, so be careful. I like using the chrome-silver and a tiny 5/0 brush to add some fresh dings and highlighted areas. It is almost indiscernible until you get the whole thing in the sun.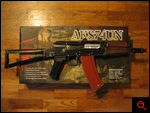 All said and done I spent roughly nine hours detailing this replica. Most of that time was spent waiting for paint to dry, but I consider it time well spent. This replica looks to me like it was well-used up until the time it was dropped in the sand somewhere on the banks of the Tigris.
A big thank you to Ben at [url="http://www.airsoftoutletnw.com"]Airsoft Outlet NW[/url] for providing me with this beautiful piece. If you would like to see it in person, or purchase it, it's on display at his shop in Cornelius Oregon or [url="http://www.airsoftoutletnw.com"]online[/url].