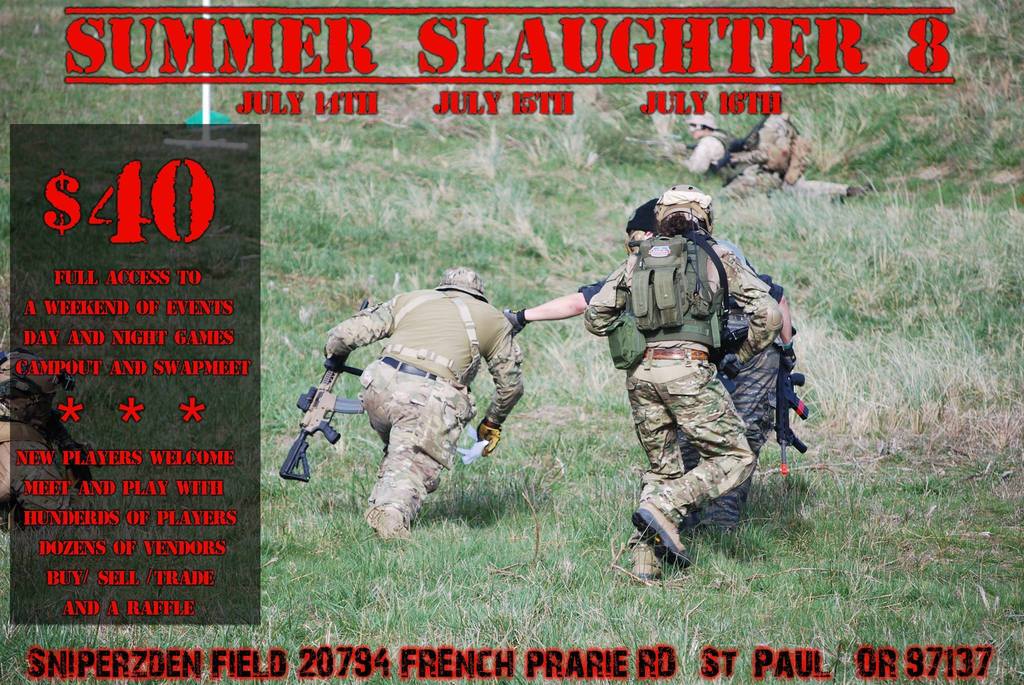 The
largest
annual Pacific Northwest airsoft event is upon us.....
Summer Slaughter 8!!!

>>>
Hosted by the fabulous

SPECDET 1

airsoft team at

Sniperzden

in St. Paul
<<<
Summer Slaughter
is a famous annual weekend game from July 14-16 for new & veteran BB slingers alike to meet up in a friendly environment, camp out, & play all weekend. There will be giveaways, competitions, training, & local teams with hundreds of players present. Vendor booths & personal sales booths for buying, selling, & trading new & used gear. Here is what airsofters are saying about this event:
"Summer Slaughter is awesome because we get to meet players in the area, talk about BB warz stuff, & stay up late without our moms bossing us around. I made a lot of friends to play with & the games are super cool. I can't wait for this year!" -- A.L.
"It's savage, dude." -- some guy
Detail can be found in the events forum.
http://airsoftpacific.com/viewtopic.php?f=10&t=43523
This is also a good place to post any questions or comments. For Facebook:
https://www.facebook.com/events/1272245502824133/
See you on the field!!