This is my first review so please be nice. I'll do the best and if you want any more info, I'll do my best to add it in.
Tokyo Marui, as many know, is one of the standards all high quality airsoft replica's are measured against. They consistently put out great product, albeit for a price, that everyone seems happy about. The FN Five-seveN is no different.
Let's start off with what you get -

As you can see, you get the Pistol, 2 Magazines, Cleaning/Unjamming Rod, BBs, and Manual. Fairly standard stuff: The rod is just like any other, toss the BBs is always safer than using them but these actually seem ok, Manual in Japanese but still easily followed, 2 fully metal magazines (pretty heavy), and the Pistol is also decently weighted. The magazine fully charged and loaded in the pistol weighs almost the exact weight of the real steel so if that's a selling point for you, you'll be happy with it! It is made of polymer and very durable while the magazine is metal - just like the real steel. Many of the trademarks are there except the FN on the grip has been replaced with a TM. This is not noticeable at first glance because TM did an excellent job mimicking the style of the original trademark. The rail will accept most standard lights or lasers (I currently run an NCStar Red Laser, fits perfectly).
Take Down, like most TMs, is a breeze.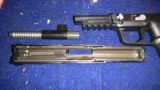 Comes apart very easily and super simple to work on. Bring the slide all the way back, flip the small grey switch just above the trigger guard, and move the slide forward. That's all it takes to remove the slide. Underneath the pistol internals are easy to work on and lube/clean. The barrel/spring/hop comes out of the slide quickly and easy adjustment. The hop up is a small wheel that makes it easy to adjust. It is just unfortunate you have to remove the slide every time you need to adjust the hop. Put it back together in reverse order and you are good to go. As you can see by the barrel, it isn't threaded so you'll have to buy an upgrade if you want to make the FN look even cooler with a mock silencer.
Field Testing - A-
TM suggests not using Green Gas. I'm privy to following this because I don't want to break my expensive TM pistol. I use the standard gas w/ silicon additive to help keep my seals in tact. For those using Duster Gas, it works fine but lowers the FPS. The FPS using .2g BBs w/ Duster is ~220 while using standard gas is ~300. Very good for a pistol. The blowback is strong and realistic. Don't worry, it's not so strong that you men can't handle it! When feeding the magazine, the biggest drawback is if the BBS don't alternate side to side perfectly, you will have a magazine that no longer feeds until you adjust the BBs. Take the time before hand to make sure the BBs are seated as tight and compact as possible. Out of the box, it doesn't take much work to adjust the hop appropriately and have it shooting consistently. From approx. 25 feet, I was able to group the shots in a 3" circle - quite accurate! The mag release protrudes further than other pistols I've used and on occasion this led to accidental presses. When held in a cross draw, the pistol was safe. When used in a hip or drop leg, if I moved the wrong way, the mag release would get pressed and the mag would eject. This is a problem for sure but if you pony up for a holster meant for the 5-7, you won't have this issue. After a magazine has been emptied, the mag catch works great and lets you know when to make the switch to a new mag. Release the slide and it's ready to go! When I played indoors, this was better than my rifle because of the short trigger pull, high FPS, smaller and lighter, and accuracy. I'll take my rifle over it any day but it's not so much a sidearm but more of a secondary weapon. Speaking on the TM quality - I dropped it on the concrete at OAA from 5 feet up. The pistol didn't break or chip or have any issues, the magazine fell out of the pistol and the bottom popped off. I was able to slide it back on, no breakages, still charged gas perfectly, and fed flawlessly!
Overall Pros and Cons
Pro:
Exact Size, most trades, exact weight replica
Get 2 mags
Shoots strong (300 FPS), good blowback feel
Accurate
TM Quality
Easy to take down and work on
Con:
Expensive and hard to find (Sold out most times and starts at $180)
Expensive Mags (~$40)
Big Pistol grip - small hands beware
Large mag release
Mag feeding issue if not loaded perfectly
Manufacture suggests NOT using Green Gas so green gas users beware
All in all this is a great pistol that looks sweet next to your P90 or whatever other primary you happen to be using.